Om Kali Bhagavathi Amman Temple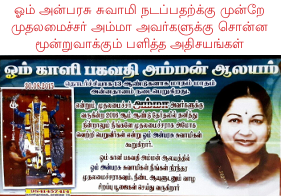 In mythology, the demon or 'asura' Tarikasuran undertakes a severe penance praying Lord Brahma. Lord Brahma gets pleased and appears before the demon and tells him that he appreciates the demon's effort and asks him what he wants. Tarikasuran asks that nobody in the world should be able to kill him.
Lord Brahma replies that once there is a birth, there has to be a death. Hence, the demon should ask something different. The demon thinks for some time and then asks that he should be killed only by a 16-year-old girl who had never seen a man's face. Lord Brahma grants this wish to the demon.